The online universe is a lot like a campground. It's a collection of digital communities in which people are gathering and discussing a wide variety of topics, including the campground where they're staying. YOUR campground. As a business, it's essential to your survival that you know what they're saying.
Unless you track those campers down, you'll never know what they thought about your campground. However, online, you can use social media monitoring to track mentions of your brand, competitors, products, and any other keywords that apply to your campground or RV park. When you know what your customers are saying, you can use that information to help you make significant decisions about your marketing strategy and interactions with your audience. Additionally, it can help you identify leads, build relationships, stay on top of trends, learn about your competitors, protect your brand, and more!
Note: This post is outlining organic social media (geared towards building brand awareness and connecting with your audience) monitoring tips, as opposed to paid social campaigns (geared towards driving targeting actions).
Why Should You Use Social Media Monitoring?
1. Gauge social sentiment
How much do you know about your campground or RV park's online reputation? You can get an idea by reading your reviews and speaking with customers, but you'd be missing out on a wealth of more informal opportunities, including brand or product mentions.
Plus, you need to be online to respond! According to Sprout Social, 89% of social messages go ignored. That's a problem—and an even bigger missed opportunity. Social media is where conversations happen, and your customers are online talking about your campground or RV park, whether you know about it or not.
So get in the know!
2. Find leads, communicate, and build relationships
People are always looking for something new—are they searching for you? You've likely seen those posts on Facebook looking for recommendations or the plaintive cries for help on Twitter: "I want pizza!"
When you monitor your brand's keywords or phrases, you can jump in and answer these requests. Keep in mind that NOT selling anything can be useful, too. Just being there to interact with people and answer questions can build your brand loyalty. Be a part of the conversations that are happening online about camping!
3. Stay on top of trends
When you're carefully monitoring discussions in the campground industry, you may be able to catch new and evolving trends as they emerge. In response to news like this, it can be beneficial to adjust your marketing strategy and be one of the first to dive into a new social channel or try a new tactic.
In the camping industry, it's important to pay attention to trends to stay ahead of your competition.
4. Perform competitor research
Has your competitor launched an event or promotion similar to yours, but at a lower price or with a few more bells and whistles? Maybe they just started a marketing strategy that your customers are loving or made a huge mistake using a tactic you've been considering.
Keeping your finger on the social pulse will alert you to these types of scenarios and unforeseen issues that may have enormous repercussions for your business.
5. Protect your brand
Establishing your campground's reputation takes a lot of time and effort, but you have to stay on top of it. Monitoring your social channels allows you to identify any issues customers have and present solutions before things get out of hand.
Stuff happens. It's inevitable.
What matters is how you respond and how quickly you do so. In fact, we've found that if a business resolves its issue promptly and efficiently, 95% of unhappy customers return to you. By listening, identifying the problem, and showing your customers you care and are taking steps to resolve the issue, you can turn a customer from a brand killer into a champion for your business.
7 Tools To Do Social Media Monitoring
There are many valuable tools out there that will help you monitor brand-related conversations on various social media channels. These are a few of the top social media monitoring tools that we think are worth a look:
Hootsuite allows you to follow essential conversations on multiple channels by creating custom streams of social content. You can also find social discussions by keyword, hashtag, and location, and reply to posts and comments quickly.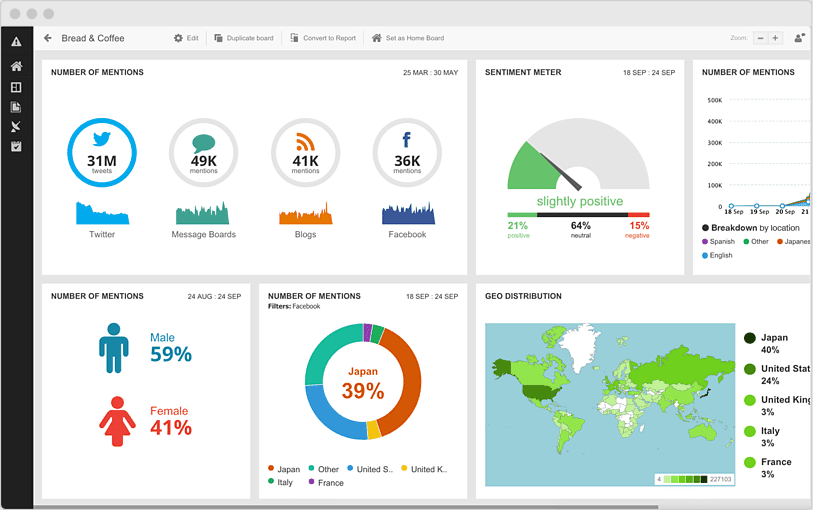 Image Source: Hootsuite
Keyhole is a hashtag tracker for Twitter, Instagram, and Facebook. The platform allows you to track mentions in real-time and its dashboard map displays the physical location of these conversations.
TweetReach illuminates where your posts travel after you hit 'Tweet'. It also helps you identify key moments with insights into spikes in activity and finds influencers in any relevant conversation.
Buzzsumo will inform you about who's sharing your content and where they're doing it. You can set up alerts for your brand, competitors, keywords, authors, domains, and even backlinks.
Social Mention monitors 100+ social media properties directly including Twitter, Facebook, FriendFeed, YouTube, Digg, Google, and many more. The platform aggregates user-generated content from across the digital universe into a single, handy stream of information.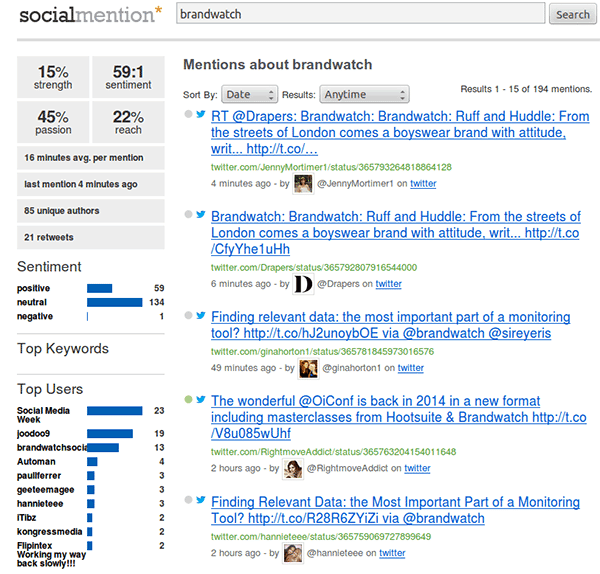 Image Source: Brandwatch
Digimind measures sentiment around your brand, providing feedback on whether that sentiment is negative, neutral, or positive. It does so by tracking your target keywords in real-time from major news outlets and social media platforms.
GetSocial allows you to track all social media analytics, including private shares through direct messaging platforms. Now you can see both public engagement, and who's copy and pasting your content!
What To Do With Your Social Media Monitoring Insights
Now that you've gathered information and insight through monitoring, social tracking, measuring, and analysis, the next step is to use that information. This is the critical moment where you determine how to act on the knowledge you've received!
Shift Social Strategy
Is your strategy working? Are you truly getting traction on your primary social channels? You may discover that it's time to re-evaluate the resources and effort you put into specific channels. For example, maybe you find out that your campground customers are super engaged on Facebook, but not on Twitter. It's worth it to devote more time and resources to engage your customers where they are vs. where they aren't.
Results from monitoring your competitors on social media could also yield some interesting insights as well. Don't let your competitors go unchallenged! What works for them can work for you, too, and you can do it better.
Work on Developing Relationships With Leads & Influencers
If you can jump into conversations and authentically solve problems for people, do it! This tactic can be especially relevant when it comes to people's frustrations with competitor campgrounds and RV parks. Offer genuine tips or advice, make an effort to help people find what they need, and don't be spammy! After all, you know the camping industry best, so you can help people with the industry-related topics they care about.
Develop New Products/Services
Listening to the needs of your target audience is a smart way to refine your solutions and develop new ones. If enough people are saying they hate an experience, or wish they could tweak it, it's probably worth looking into what the issue is and try to determine what could make your campground or RV park better for your visitors.
On the flip side, if your customers LOVE something about your park, there may be an opportunity to develop similar or complementary products or services. Don't forget to let people know through your social marketing campaigns when you've made a change so they can experience it for themselves!
Update Customer Service Policy/Process
Social media has led to a significant shift in how customer service is carried out. People want instant answers and are less likely to put up with call centers. Many won't even pick up the phone when they have a problem; they'll just post about it!
According to a new report from Conversocial, 54% of customers prefer customer service via social media and SMS. The upcoming generations will only amplify this trend, so if you're looking to attract young people to your campground, be ready to bring the conversation online!
In Jay Baer's book Hug Your Haters, author and consultant Dave Kerpen notes that,
"If a customer calls you on the phone to complain, surely you wouldn't hang up on them. And not responding at social media is akin to hanging up on them, only worse, because there are actually other people watching and listening."
Letting complains hang out there unanswered is not acceptable to current and potential customers, and it shouldn't be to you!
Easy Wins
We know we've thrown a lot of information your way, but we don't want you to feel overwhelmed. These are some excellent places to start:
Write down 3 top goals that you're hoping monitoring your

social

channels will help you accomplish. (example: find out if people like the new

campground

amenities).
Sign up for a free

social

media monitoring tool or take one of the paid tools on a free 2-week trial spin. Poke around and see what value you can get out of the tools and which ones suit your needs.
Enter a few of your

campground

or

RV park

's keywords and see what data the tools come up with.
Look through the initial results. Make a list of 3 things you learned, how they impact your

business

and any potential strategy changes.
Final Thoughts
Now that you're aware why it's so important to monitor social media for mentions related to your brand, products, services, competitors, and industry, it's time to form a plan to analyze, respond, and integrate results into your campground or RV park's strategy. Opportunities are waiting!