It's time to face the facts: the days of the paper phone book are dying, and the internet has risen up to take its place. If you're trying to find a business, product, or service in your area, all you have to do is hit up your favorite search engine and type your query.
For consumers, it's easy to find exactly what you're looking for, both where and when you're looking for it.
For campgrounds and RV parks, it's another matter entirely: a matter of getting your business found by those searching consumers, so you can make sales and grow your business.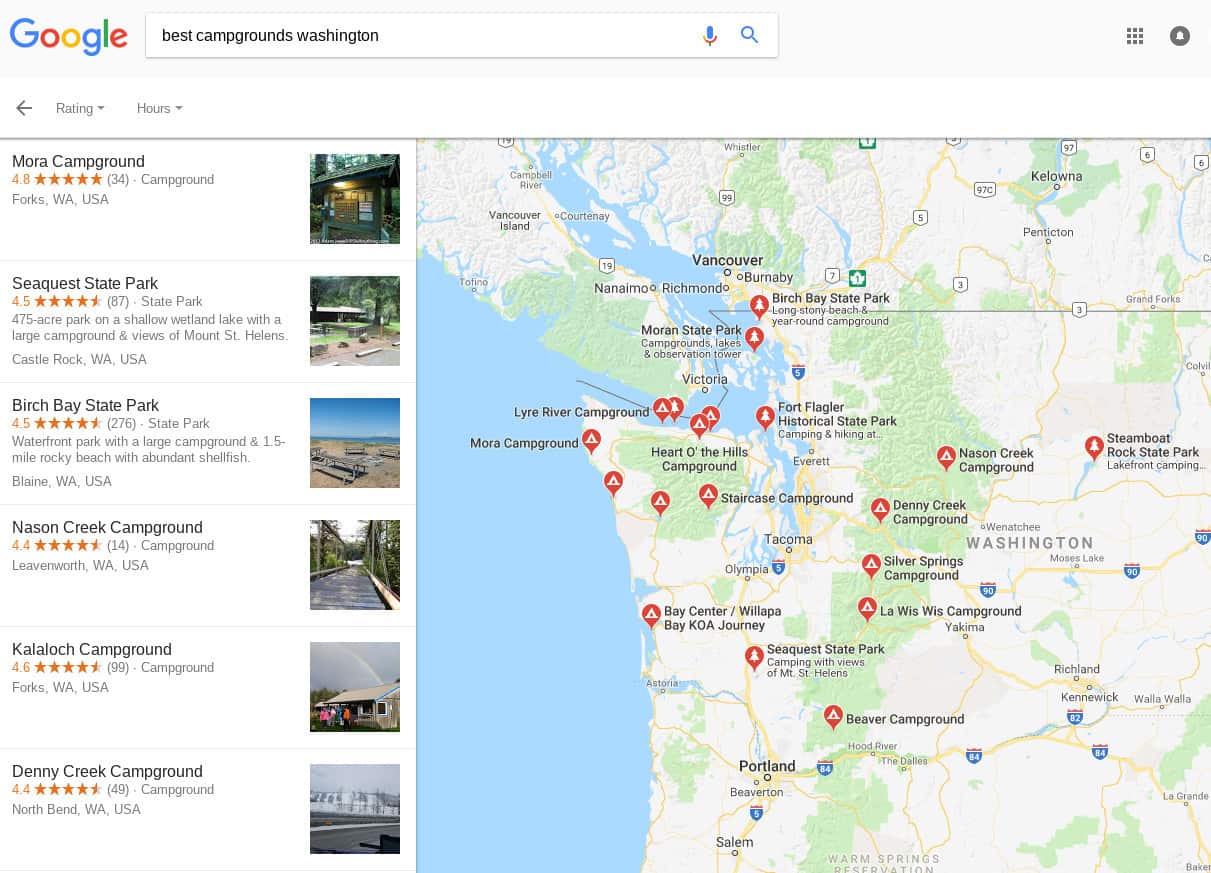 When someone is looking for a campground or RV park, accurate business listings make sure they find what they need: your business.
First of all: What's an online business listing?
A business listing is a public profile that contains a business' vital information such as name, address, number, website, hours of operation, and more. They act as a "virtual doorway" to campgrounds and RV Parks and can (and should) be found across hundreds of online listings and directory sites across the web. Some directories are vertical-specific, though many (like Google+, Yelp, Yellow Pages, and so on) are generic catch-alls for all businesses.
Who needs listings?
Everyone! Campgrounds and RV parks need listings in order to be found, and consumers need listings to find products and services they're looking for! Any campground or RV park that wants to be found online needs business listings. You may even already have them, whether you realize it or not.
Listings for local SEO
If you want to rank well in local search, you need consistent data, including website, hours, and more across all major listing directories. This is essential for search engines to validate you as a credible campground or RV park.
The more accurate and consistent the data about your campground or RV park is across the web, the more search engines will trust the validity of your business. Additionally, when search engines trust the business, the higher it will rank in local SERPs (Search Engine Results Page).
According to Moz in their 2017 Local Search Ranking Factors survey, 13% of professionals list citation signals as the most critical element in Local Pack Ranking factor.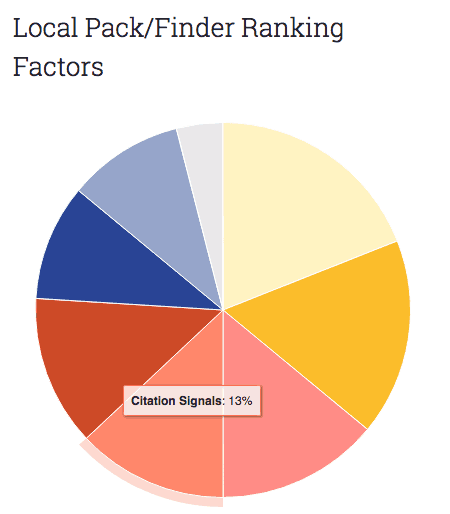 Moz, 2017
What's in an online campground or RV park listing?
The information contained in business listings can vary across verticals and directories—but some key pieces of information hold true across them all.
NAP Data
The most crucial data held in a business listing is the NAP data—name, address, and phone number information. NAP data is critical for the online visibility of any business, and every listing source contains this information for the businesses listed. Having correct NAP data ensures that consumers will be able to find your campground or RV park online and also have accurate resources with which to get in touch with you.
NAP data is also essential for search engines like Google to display your business in geo-targeted searches. If someone is searching "best campground for kids" in the Boston area, the local Boston campgrounds with correct NAP data will appear. Google gives search ranking priority to campgrounds and RV parks with accurate NAP data—how else are consumers supposed to tell where you are, what you do, and if you're even a legitimate business at all?
The stats
Consumers are looking for your campground or RV park! What exactly are they looking for?
53% of mobile searchers are looking for directions
50% are looking for

business

addresses
When over half of the searches are targeting your campground or RV park location, it's essential that it's listed accurately on all sites.
Hours of Operation
After NAP data, the most important thing to include is your hours and seasonal information. When a consumer is searching for campground or RV park, they have a high purchase intent and are likely searching for an immediate need.
If your campground or RV park has no hours listed, the consumer has to go out of their way to find out whether you're open or closed, either by checking your website or phoning your office. Or, worse yet, they drive to visit your campground or RV park and find that you're closed! Now they're not only inconvenienced by not knowing your business hours, but they're also upset for wasting their time. Let the negative reviews commence!
If your competitor has their hours listed, they'll likely capture that consumer. People just want their needs fulfilled, and businesses that make it easy often stay ahead of their competition.
The stats
73% of purchases that result from mobile searches happen within the same day, and most (63%) within a few hours
76% of consumers report that they expected hours of operation information when conducting a

search

Over 60% of consumers find that knowing the

business

hours helps them make their purchase decision
Websites
Does your campground or RV park have a website? Throw that link into your business listings. Consumers will often travel from Google search into a business website to get a feel for the business and learn more about what they're offering. So obviously, including a link to your website is important for your online presence.
Other listing information to include
For campgrounds and RV parks, there are a few important things to include in your listings:
Payment methods
Services
Amenities
Holiday hours
Photos
Social profiles
And more!
The more information you include across all listing sources and directories, the easier it will be for consumers to find your campground or RV park so they can visit!
How to manage your campground and RV park listings
When it comes to managing your online business listings, it's important to do two things:
Ensure you're listed on all the top listing sites, both general sites, and

campground

-specific
Ensure the information is accurate across all online listings sites
Rather than checking each critical listing site one by one for your business, it's best to make use of a robust platform that you can both upload your profiles to, and have sync instantly across the major listing sources.
Online listings management is the first step in managing your online presence. Ensure your target audience can find your campground or RV park online: contact us today for the listings management solution you need to sync your business information across the most vital listing sources to ensure they're accurate and up-to-date.